+++ New in Previous Sophora Versions +++
New functions from previous Sophora Versions.
Saving Additional Information from Geodata
Based on geodata, additional information can now be retrieved and stored in a desired document. Additional data includes the administrative district, the federal state, the country or the postal code. The additional information is available in the search index, so that you can filter for geodata in the website or app or automatically populate maps. This makes personalization possible, for example if visitors are particularly interested in news from their region. The extension package contains a script and a Sophora mix-in that can be used at various points in the data model.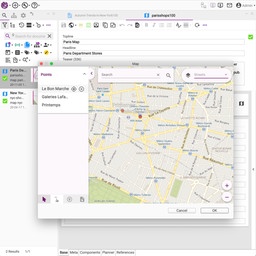 New User Interface
The
Maps module
has received a complete visual and technical make-over and is now based on the latest version of the
Angular
framework as well as on the current interfaces of the map providers. In the background, we changed the module to
OpenLayers
which allows us to be more independent from the map providers.